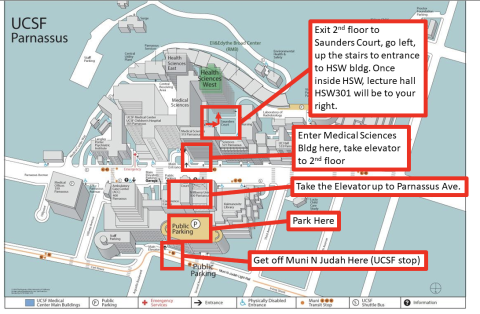 Location: Lecture Hall HSW301 - UCSF Parnassus Campus
                 513 Parnassus Avenue, San Francisco, California 94143
By car:
Park in the UCSF Millberry Union Public Garage (500 Parnassus Ave)
By transit:
Take Muni N Judah to the UCSF Parnassus stop.
Cross the street and enter the UCSF Irving St. Entrance (Blue sign "UCSF at Parnassus Heights")
All:
Take the elevator up to Parnassus Ave. (Floor 1 on elevator buttons)
Cross Parnassus Ave and enter the Medical Sciences building. (Picture)
Enter the elevator or stairs to the second floor.
Exit to Saunders Court. (Picture)
Turn left and enter Health Sciences West (HSW). (Picture)
Turn right; continue to the end of the hall and enter lecture hall HSW 301.